CHANGE BEGINS AND ENDS WITH YOU
Welcome to GoodFITT Personal Training & Wellness Services!
Committed to promoting health and wellness in the community and worldwide, we are here to motivate you to move, elevate your training game, and inspire you to change – one step, one rep, and one breath at a time
Your ability to achieve and accomplish your goals and meet your objectives are dependent on how much you are willing to adapt and adjust to the challenges ahead – because there will be many!
Working with us, you will learn the benefits of leading by example while leaning on the energy, encouragement, and empowerment provided by our trainers to expose your potential and prime you in the direction of true growth and success, mind, body, and spirit.
We show you just how much you can do and take it up a notch or two to prove what we knew from the jump – you are stronger than you think and have the capacity to progress above and beyond.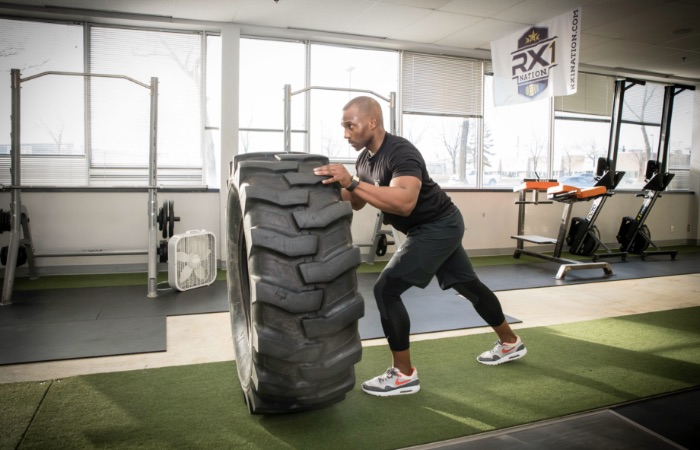 Interested in training?
Whether you want to work solo, with a friend, or enjoy the atmosphere of training with a group, we can provide that for you at a reasonable & flexible rate. Plus, your first session is on us! Complete the online profile form below and let's get started!
Testimonials
Well located, spacious and very well equipped.
HUSTLE X HARD WORK
ONE PART OF THE EQUATION FOR YOUR FITNESS GOALS
Hustle x Hard Work is mantra that encompasses the mindset that we have embraced to help our clients attain success. We encounter obstacles and challenges on a daily basis but often affect us to a greater degree when there is a goal on the line. Doubt finds its way in, fear surfaces, and what seemed like "lightwork" just became much heavier.
To "hustle" means to put in the effort required to meet, exceed, and achieve your goals and objectives. It means remaining committed, staying focused, and being willing to put in the work needed even when the odds are against you. The most successful clients have taken challenges and turned them into reasons for change. You can too, and we're here to help you make that happen.
You will encounter slow-downs and slip ups on your journey but remember:
Losses allow you to learn
Obstacles open doors to opportunities
setbacks are set-ups for comebacks
Change your thinking |Change your attitude | Change your life.
Our Focus
We care about your fitness, your progress, and YOU
Online Training
Be coached from a distance at a fraction of the cost
PRJCT8 PROGRAM
8 weeks of hustle, hard-work, and high energy workouts.